Since January 3, 2023, Sunrise has started phasing out the 2G network
The process of replacing old mobile communications standards with the new and more efficient generations forms part of the normal technological developments. Sunrise has long delayed the deactivation of 2G technology in order to give you the longest possible transition period. The 2nd generation mobile communications standard (2G: GSM, GPRS, EDGE, HSCSD), which is technologically outdated, is currently still in operation, but practically no longer used. Devices that only support the 2G standard (including certain 3G compatible devices) will gradually no longer be able to use the Sunrise network, starting on January 3, 2023.
What does this mean for you: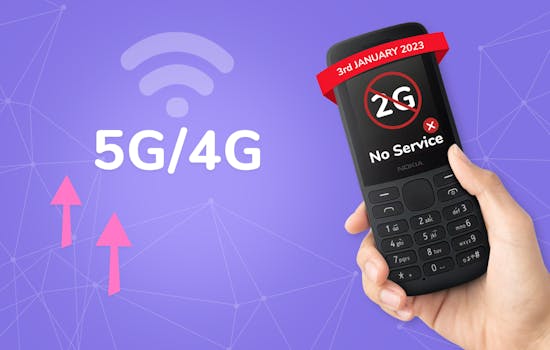 If you are still using a mobile phone/device that only supports 2G technology, you will have to exchange it by January 3, 2023.


To continue using the mobile service with yallo, a phone that supports 4G or 5G is required.
New phones (smartphones) are available at digitec, Interdiscount, MediaMarkt or other retail stores. If you are unsure whether your phone is affected, do not hesitate to visit a yallo store near you. We will also check your SIM card to ensure you can make full use of our services.
Why is the 2G network being shut down?

---

Can the Sunrise 2G Network not continue to be operated selectively beyond the deactivation date?

---

Which devices/phones are affected?

---

Which technologies does the term «2G» cover?

---

Which services are affected by the deactivation of the 2G network?

---

How can these services continue to be used from January 3, 2023?

---

Which other Swiss mobile networks currently support 2G?

---

How do I find out if my phone is affected?

---

I still have a 2G only capable phone that works exclusively with 2G connections. What do I have to do so that I am also connected to the Sunrise mobile network in 2023?

---

Which technology does yallo recommend switching to?

---

Where can I get a new phone (smartphone)?

---

Can I keep my phone number if I switch my device?

---

I am a private customer and have a 2G-compatible device. Why should I stop by a yallo store?

---

I am a yallo prepaid customer with only one 2G-capable device. What do I have to do to be connected to the Sunrise mobile network in 2023 without my prepaid credit expiring?

---

I have a 2G-capable alarm system/elevator emergency call/camera sensor/remote control (for heating systems, for example). What do I need to do to stay connected to the Sunrise mobile network in 2023?

---

Can I also call their call center / customer service?